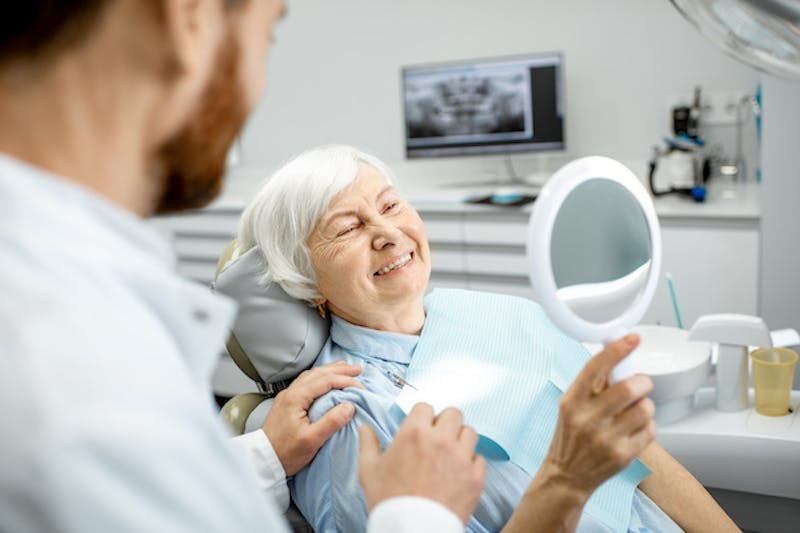 Some big life changes are hard to adjust to, like moving or changing jobs. If you have lost several teeth and are considering having them replaced with dentures, you should know that getting used to your tooth replacement will be much easier if you go with implant dentures in Trophy Club compared to regular dentures. Find tips for getting used to eating and speaking with your new tooth replacement below.
Adjusting to Eating with Implant Dentures
To set you up with implant dentures, your dentist or oral surgeon will place the implant posts and allow them to heal over a period of four to six months. After the recovery is complete, the dentures will be placed on top.
You can resume eating all your favorite foods as normal as soon as you receive your denture, but it will probably take some practice before you're biting into a steak. Begin by eating softer foods, taking smaller bites, and chewing a bit more carefully than you might be used to.
After a couple of weeks, you will likely be so used to eating with your implant denture that you don't notice a difference at all.
Speak with Confidence
You probably think of them mostly in the context of chewing food or smiling for a photo, but your teeth are also crucial for speaking clearly. If you have had any sort of dental injury or lost teeth, you will know that your speech may slightly change as a result. The same is true with a tooth replacement – it will take a little bit for you to get used to speaking with your new implant denture.
To resume chit chatting with ease, practice saying words out loud as much as you can. Read aloud to yourself and sing your favorite songs on the radio. Your mouth will gradually get used to the movements required to speak clearly with your new tooth replacement.
How to Care for Implant Dentures
Choosing dentures supported by dental implants is a wise investment in your smile and your health. Make sure you are getting the most out of this investment by taking excellent care of your dental implants to help them last a lifetime.
Your dentist will advise you to do the following after getting implant dentures:
Brush the artificial teeth with toothpaste and a soft-bristle brush to remove bacteria and prevent plaque and stainsIf your denture is removable, let it sit it in a denture soak overnight to keep it clean and help it retain its shapeUse a water flosser to get at hard-to-reach areasVisit your dentist as recommended, usually twice a year or otherwise directed
Follow these steps and you'll be eating and speaking with ease for years to come thanks to your implant denture.
Meet the Practice
Dr. David Crumpton was inspired to become a dentist after having his own front tooth replaced by a dental implant at 18 years old. Since then, he has been passionate about working with patients to help them regain their beautiful, functional smiles through quality restorative dentistry. To schedule an appointment with Dr. Crumpton or to inquire about adjusting to implant dentures in Trophy Club, contact his practice by phone at (817) 587-4177.